The Ultimate First Aid Kit List
Top 25 essential and advanced supplies to treat scrapes, cuts, sprains, and more serious injuries
Preparing for an Unexpected Injury
Wondering what type of bandages, wraps, ointments, medications, and other essential medical supplies should be in your first aid kit?
Let's help get you prepared for an unexpected accident and injury at home or on the road. According to the National Safety Council, in 2021 there were over 52 million injuries that required medical consultation, and this does not take into consideration all of the smaller cuts and scrapes that people treat on their own.
Choosing the best first aid kit can depend on a variety of factors such as the purpose of the kit, the size of the kit, and the specific needs of the individual or group.
Using our Ultimate First Aid Kits List will help you determine the best essential medical supplies to keep on hand in your home and in your vehicle. And for those looking to have more advanced supplies such as tourniquets, sutures, chest seals, and more you will find this checklist extremely helpful.  
Bandages of various sizes

Secure strips

Butterfly bandages

Liquid skin

Gauze pads of various sizes

Eye bandage

Alcohol prep pads

Tweezers

Medical gloves

Scissors

Waterproof tape

Instant cold packs

Cotton balls and cotton swabs
Medications: Ibuprofen, Pain Reliever, Allergy

Burn relief gel

Sting relief

Antibiotic ointment

Splints

Triangle bandages

Elastic wraps

Chest Seal

CPR shield

Suture kit

Tourniquet

Survival Blanket
Our Top-Rated First Aid Kits
Invest in a well-stocked kit and get prepared
The ultimate first aid kit for your car. Be ready on the road for unexpected accidents. Also handy when you are away from home on adventures like hiking or at the local park. You never know when you may need to take care of scrapes, cuts, or sprains on the go.
Perfect for small groups and families
Essential supplies for 2-5 people
Well-stocked with top-quality first aid supplies
Supply options for minor cuts, scrapes, and injuries
Advanced supplies include: tourniquet, bleeding control dressing, chest seal and nasal airway tube, micromend kit for deeper cuts and lacerations, and more
Even Includes a window breaker
Choose your favorite color lightweight carrying case with large zippers and organized compartments for easy use.
The Team Sports Coach's First Aid Kit is designed for coaches and parents to have on-hand at sporting events.
Great for youth sporting events like soccer, baseball, basketball, and more
Quickly bandage up scrapes and cuts
Wrap ankle and knee sprains
Splint finger injuries
Instant ice packs for injuries and swelling
Easy to carry and durable case
Perfect for team sports with supplies to cover multiple participants
OUR FAVORITE BASIC FIRST AID KIT JUST GOT BETTER!
NEW Upgrades Include:
Folding page design for enhanced organization

Extra space so you can organize and customize to fit your needs

Hypalon MOLLE panel is highly durable & lightweight

High-end metal clips make your kit easy to find in an emergency
WELL-EQUIPPED WITH ESSENTIAL SUPPLIES FOR GROUPS AND FAMILIES
Great for 2-4 people
The ultimate kit to take on adventures and to keep in your home or car
Equipped with 100 top-quality first aid supplies
Lots of supply options for minor cuts, scrapes, and injuries
Medications for pain, headaches, stomach issues, stings and bites, and allergies
Basic survival gear like survival blanket and safety whistle
Our favorite Large First Aid Kit! This kit is tougher and more versatile than ever, so that you can react with speed and efficiency. Stocked full of high-performance life-saving supplies.

The MyFAK Large First Aid Kit Basic is designed to keep you and your loved ones safe (group size: 5+). This unit is nearly twice the size of the MyFAK and has over 200 essential supplies. Heavy duty construction with extra strong zippers and hardware allow for a lifetime of use.
NEW Upgrades Include:
Folding page design for enhanced organization

Extra space so you can organize and customize to fit your needs

Hypalon MOLLE panel is highly durable & lightweight

High-end metal clip makes your kit easy to find in an emergency
Tips for Choosing the Best First Aid Kit
Purpose: Determine the purpose of the first aid kit. Is it for personal use, a specific activity such as camping or hiking, or for a workplace? This will help you determine the size and contents of the kit.

Size: Consider the size of the kit based on the number of people it will be used for and the duration of the activity. A small kit may be sufficient for personal use, but a larger kit may be necessary for a group or extended trip.

Contents: Look for a kit that includes a variety of items such as bandages, antiseptic wipes, gauze, scissors, and adhesive tape. Other items that may be useful include pain relievers, insect repellent, and a CPR mask.

Quality: Choose a first aid kit from a reputable manufacturer that meets industry standards for quality and safety.

Portability: Consider the portability of the kit. A compact and lightweight kit is easier to carry and transport.

Customization: If you have specific needs or medical conditions, look for a kit that can be customized with additional items or medications.

Maintenance: Check the expiration dates of the contents of the kit regularly and replace any expired items.
Overall, the best first aid kit is one that meets your specific needs and is well-stocked with essential items. It is important to keep your kit up-to-date and easily accessible in case of an emergency.
What Supplies Should Be In Your First Aid Kit?
Be prepared for natural disasters, trauma, and much more!
When looking to purchase or update your first aid kit there are basic essential medical supplies that you should definitely have at your disposal for minor cuts, scrapes, and injuries. More advanced supplies may require some level training and should only be used by people with the proper knowledge and experience.
BASIC SUPPLIES
The basics include items such as bandages of various sizes and uses, gauze pads and rolls, adhesive tape, scissors, medical grade gloves, thermometer, and alcohol pads. Items that help with cuts and scrapes.
MEDICATIONS
Your kit should have medications that help alleviate headaches, pain from an injury, allergic reactions, bug bite and stings, and antibiotic ointments for helping treat wounds.
SPRAINS & FRACTURES
Some of these more advanced medical supplies such as suture kits, tourniquets, chest seals, and CPR shields are great to have as part of your kit, but some of them may require extra knowledge and training on how to properly use them.
GOOD TO HAVE
Even the most comprehensive first aid kit will not have everything you could need or want. That is why we suggest that you personalize the kit and add to it. Having items like personal medications, a flashlight, paracord, survival blankets, can all come in handy.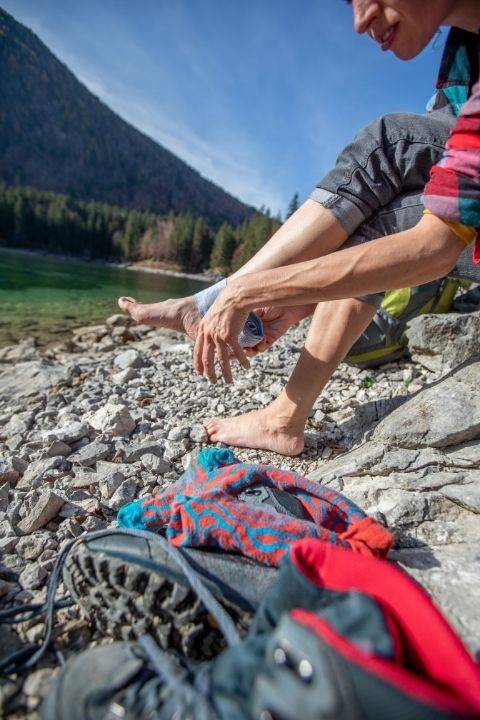 Complete First Aids Kits List
basic and advanced medical supplies and equipment to consider for your kit

BASIC SUPPLIES
Bandages - various sizes
Fingertip Bandages
Knuckle Bandages
Knee/Elbow Bandages
Secure Strips
Butterfly Bandages
Liquid Skin
Gauze Pads - assorted sizes
Gauze Rolls
Adhesive Tape Roll
Eye Bandage
Alcohol Prep Pads
Tweezers
Medical Gloves
Cotton Balls
Cotton Tipped Swabs
Scissors
Waterproof Tape
Pressure Bandages
Instant Cold Packs
Thermometer
Safety Pins
MEDICATIONS
Ibuprofen
Pain Reliever
Allergy Medication
Burn Relief Gel
Antibiotic Ointment
Hydrocortisone Cream
Sting Relief
Petroleum Gel/Cream
SPRAINS & FRACTURES
Splints
Triangle Bandages
Elastic Wraps
ADVANCED SUPPLIES
Chest Seal
CPR Shield
Nasal Airway & Lube
Suture Kit
Tourniquet
Scalpels
GOOD TO HAVE
First Aid Kit Guide
Survival Blanket
Emergency Whistle
Flashlight/Glow Stick
Paracord
Duct Tape
Personal Medications
Emergecy Contact Info