essential and advanced supplies

The UltimateFirst Aid Kit List
Top 25 essential and advanced supplies to treat scrapes, cuts, sprains, and more serious injuries
Bandages of various sizes

Secure strips

Butterfly bandages

Liquid skin

Gauze pads of various sizes

Eye bandage

Alcohol prep pads

Tweezers

Medical gloves

Scissors

Waterproof tape

Instant cold packs

Cotton balls and cotton swabs
Medications: Ibuprofen, Pain Reliever, Allergy

Burn relief gel

Sting relief

Antibiotic ointment

Splints

Triangle bandages

Elastic wraps

Chest Seal

CPR shield

Suture kit

Tourniquet

Survival Blanket
Our Top-Rated First Aid Kits
invest in a well-stocked kit and be prepared
Very versatile kit filled with useful supplies for 2-5 people

BLEEDING
2 SuperSkin Bandage Assorted Pack
    - 6 SuperSkin Bandages | 1 in. x 3 in.
    - 3 SuperSkin Bandages | 2 in. x 4 in.
    - 2 Fingertip SuperSkin Bandages.
1 Gauze MOD
    - 2 3x4 Non-Adherent Pad
    - 3 2x2 Non-Adherent Pad
    - 2 2x2 Gauze Pad
    - 2 4x4 Gauze Pad
    - 12 Gauze Roll
    - 13 Gauze Roll

MEDICATION
1 Medication MOD
    - 4 Ibuprofen
    - 2 APAP
    - 2 Aspirin
    - 2 Diotame
    - 2 Dramamine
    - 2 Diphen
    - 2 Diamode
    - 2 Decorel Forte
HYDRATION
1 Burn MOD
    - 2 KoKos Hybridation Packets
    - 2 Water Purification Tablet
TOPICAL
1 Super Wash (for irrigating wounds and eyes)
1 Clean & Prep MOD
    - 4 Antiseptic Wipes
    - 4 Hand Sanitizer
    - Iodine Prep Pad
1 Treatment & Relief MOD
    - 3 Triple Antibiotic Ointment Packets
    - 2 Lip Balm Packets
    - 2 Sunscreen Packets
    - 2 Sting Relief Packets
    - 1 White Petrolatum Packets
    - 2 Hydrocortisone Packets
    - 2 Oral Pain Relief Packets
    - 1 Ammonia Towelette
    - 1 Friction Frosting (Chamois Butter)
BURN
1 Burn MOD
    - 4 Burn Gel Packets
    - 1 4x4 Burnshield
AIRWAY
1 CPR Shield
OUTDOOR
1 Space Blanket
1 Blister MOD
    - 3 SuperSkin Blister Tape

TOOLS & DEVICES
1 Gloves Packet (2 Gloves)
1 Cloth Surgical Tape
1 Large EMT Shears
1 Tools MOD
    - 1 Penlight
    - 1 Tweezer
    - 1 Thermometer
    - 5 Thermometer Sheaths
    - 1 Whistle
1 Mini Wound Closure MOD
    - 1 Pack of 3 Secure Strips
    - 1 Tube Liquid Skin
     

SPRAIN & FRACTURE
1 Instant Cold Pack
1 Mini Strain & Fracture MOD
    - Finger Splint
    - Sense Wrap 1' x 15'
Ideal to take on adventures and to keep in your home. Designed for small and bigger groups of 5 or more people

BLEEDING
3 SuperSkin Bandage Assorted Pack
    - 6 SuperSkin Bandages | 1 in. x 3 in.
    - 3 SuperSkin Bandages | 2 in. x 4 in.
    - 2 Fingertip SuperSkin Bandages.
2 Gauze MOD
    - 2 3x4 Non-Adherent Pad
    - 3 2x2 Non-Adherent Pad
    - 2 2x2 Gauze Pad
    - 2 4x4 Gauze Pad
    - 12 Gauze Roll
    - 13 Gauze Roll

MEDICATION
2 Medication MOD
    - 4 Ibuprofen
    - 2 APAP
    - 2 Aspirin
    - 2 Diotame
    - 2 Dramamine
    - 2 Diphen
    - 2 Diamode
    - 2 Decorel Forte

BURN
2 Burn MOD
    - 4 Burn Gel Packets
    - 1 4x4 Burnshield
TOPICAL
2 Saline Wash (for irrigating wounds and eyes)
2 Clean & Prep MOD
    - 4 Antiseptic Wipes
    - 4 Hand Sanitizer
    - Iodine Prep Pad
2 Treatment & Relief MOD
    - 3 Triple Antibiotic Ointment Packets
    - 2 Lip Balm Packets
    - 2 Sunscreen Packets
    - 2 Sting Relief Packets
    - 1 White Petrolatum Packets
    - 2 Hydrocortisone Packets
    - 2 Oral Pain Relief Packets
    - 1 Ammonia Towelette
    - 1 Friction Frosting (Chamois Butter)

OUTDOOR
3 Space Blanket
2 Blister MOD
    - 3 SuperSkin Blister Tape
HYDRATION
3 Hydration MOD
    - 2 KoKos Hybridation Packets
    - 2 Water Purification Tablets
TOOLS & DEVICES
3 Gloves Packet (2 Gloves)
1 Cloth Surgical Tape
1 Large EMT Shears
1 Tools MOD
    - 1 Penlight
    - 1 Tweezer
    - 1 Thermometer
    - 5 Thermometer Sheaths
    - 1 Whistle
2 Mini Wound Closure MOD
    - 1 Pack of 3 Secure Strips
    - 1 Tube Liquid Skin

SPRAIN & FRACTURE
2 Instant Cold Pack
1 Mini Strain & Fracture MOD
    - Finger Splint
    - Sense Wrap 1' x 15'3
1 Splint

AIRWAY
2 CPR Shield



Ideal kit for coaches/parents to have on hand during sporting events

1 Sturdy Bag
1 First Aid Booklet
1 Stainless Steel Scissors
1 Tweezers
2 Pair Vinyl Gloves
3 Safety Pin
5 Cotton Tipped Applicator
2 Eye Pad
2 Disposable Thermometer
4 Wood Finger Splint
2 2" X 3" Moleskin
3 Small Instant Cold Pack
1 Pack Pocket Tissue
1 Hazardous Material Bag
6 Alcohol Prep Pad
6 Iodine Prep Pad
3 Sting Relief Pad
6 Antiseptic Towelette
2 Hydrocortisone Cream
3 Acetaminophen Packet
3 Ibuprofen Packet
15 3/8" X 1-1/2" Bandage
20 3/4" X 3" Bandage
3 Knuckle Bandage
3 Knee/Elbow Bandage
10 Wound Closure Strip
3 2" X 2" Sterile Gauze Pad
3 3" X 3" Sterile Gauze Pad
1 5" X 9" Combine Dressing
3 3" X 4" Non-Adherent Dressing
2 2" Conforming Gauze Roll
1 2" Elastic Bandage
1 Triangle Bandage
2 Co-Flex Bandage Roll
1 Pre-Wrap Roll
2 1" Adhesive Tape Roll
6 Triple Antibiotic Ointment
Most Reliable Kit For Your Vehicle

The perfect first aid kit to keep in your vehicle and/or home. It is well stocked with a wide range of useful supplies and can help you address and treat injuries on the road or at home.

BLEEDING
1 Rapid Tourniquet
1 Compressed Krinkle Gauze
1 SuperSkin Bandage Assorted Pack
    - 6 SuperSkin Bandages | 1 in. x 3 in.
    - 3 SuperSkin Bandages | 2 in. x 4 in.
    - 2 Fingertip SuperSkin Bandages.
1 Mini Gauze MOD
    - 2x2 Non-Adherent Pad
    - 2x2 Gauze Pad
    - 2 4x4 Gauze Pad
    - Conforming 2 Gauze Roll

MEDICATION
1 Mini Medication MOD
    - Ibuprofen
    - APAP
    - Aspirin
    - Diotame
    - Medi-Meclizine
    - Diphen Diamond Cold & Flue Med
TOPICAL
1 Mini Topical Mod
    - 3 Triple Antibiotic Ointment Packets
    - 2 Lip Balm Packets
    - 2 Sunscreen Packets
    - 2 Sting Relief Packets
    - 1 White Petrolatum Packets
    - 2 Hydrocortisone Packets
    - 2 Oral Pain Relief Packets
    - 1 Ammonia Towelette
    - 1 Friction Frosting (Chamois Butter)
1 Super Wash
1 Clean Prep MOD
    - 4 Antiseptic Wipes
    - 2 Hand Sanitizer
    - 1 Iodine Prep Pad
1 Burning MOD
    - 3 Burn Gels 3.5g
AIRWAY
1 CPR Shield
OUTDOOR
1 Space Blanket
1 Paracord 25'
1 Lightstick
1 Glucose Gel Packet
1 Blister MOD
    - 3 SuperSkin Blister Tape

TOOLS & DEVICES
1 Gloves Packet (2 Gloves)
1 Small EMT Shears
1 Window Breaker
1 Barf Bag
1 Stay Alive Guide Book
1 Mini Tools MOD
    - 1 Penlight
    - 1 Tweezer
    - 1 Whistle
1 Zzips 2 Pack
    - 2 Zzips Devices
    - 1 Instruction for use



Are You Prepared For An Accident?
Wondering what type of bandages, wraps, ointments, medications, and other essential medical supplies should be in your first aid kit? 



Are you prepared for an unexpected accident and injury at home or on the road? According to the National Safety Council, in 2019 there were 39 million injuries that required medical consultation, and  this does not take into consideration all of the smaller cuts and scrapes that people treat on their own.



Using our Ultimate First Aid Kits List will help you determine the best essential medical supplies to keep on hand in your home and in your vehicle. And for those looking to have more advanced supplies such as tourniquets, sutures, chest seals, and more you will find this checklist extremely helpful.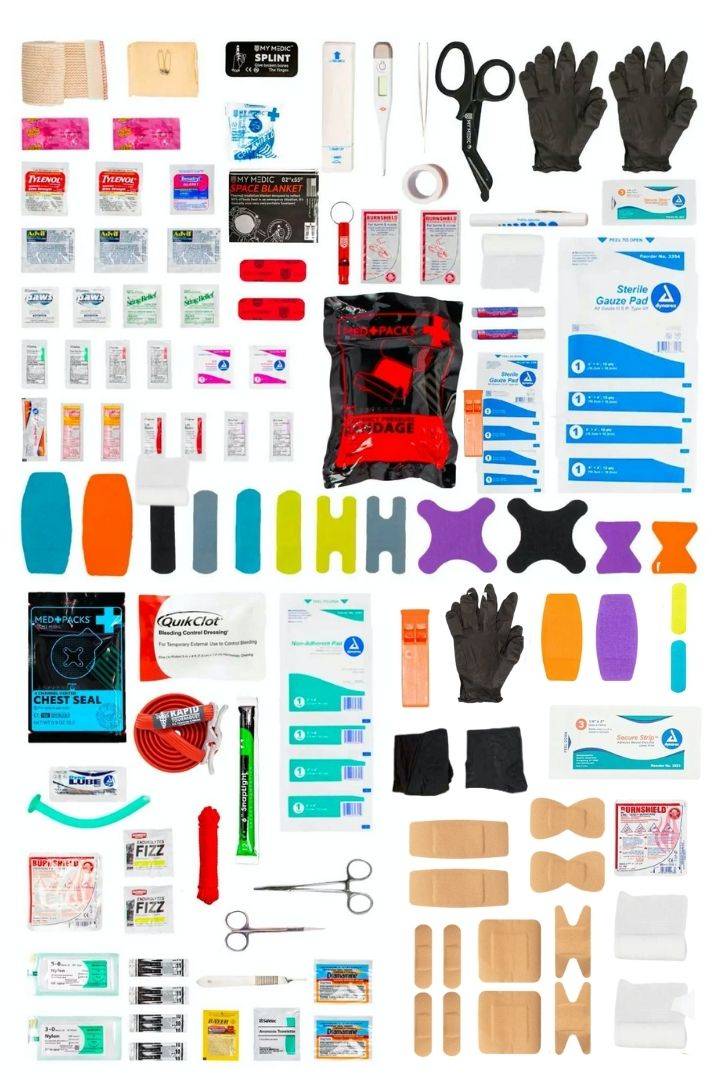 What Supplies Should Be In Your First Aid Kit?
When looking to purchase or update your first aid kit there are basic essential medical supplies that you should definitely have at your disposal for minor cuts, scrapes, and injuries. More advanced supplies may require some level training and should only be used by people with the proper knowledge and experience.
BASIC SUPPLIES
The basics include items such as bandages of various sizes and uses, gauze pads and rolls, adhesive tape, scissors, medical grade gloves, thermometer, and alcohol pads. Items that help with cuts and scrapes.
MEDICATIONS
Your kit should have medications that help alleviate headaches, pain from an injury, allergic reactions, bug bite and stings, and antibiotic ointments for helping treat wounds.
SPRAINS & FRACTURES
Some of these more advanced medical supplies such as suture kits, tourniquets, chest seals, and CPR shields are great to have as part of your kit, but some of them may require extra knowledge and training on how to properly use them.
GOOD TO HAVE
Even the most comprehensive first aid kit will not have everything you could need or want. That is why we suggest that you personalize the kit and add to it. Having items like personal medications, a flashlight, paracord, survival blankets, can all come in handy.
Where & When You Should Have A First Aid Kit?
Accidents and injuries can and do happen when we least expect them to. Having a comprehensive first aid kit handy can make all of the difference. When considering what to include in your first aid kit, you should take into account what types of activities you will be doing.





Keeping a well-rounded and stocked kit at home is always a good idea for cuts, scrapes, and sprains that often happen at or around your home.





There are specialty kits designed specifically for certain activities like sporting events, boating, hiking, and even the range. 





So the real answer is, it depends on what you like to do in life. Having a kit at home, one in the car, and one you take on adventures is a great place to start.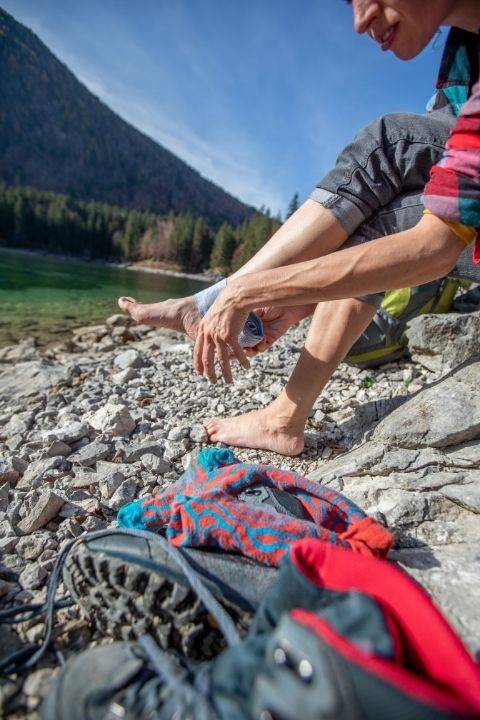 for boats, storms, natural disasters, ranges, and more!

Complete First Aids Kits List
basic and advanced medical supplies and equipment to consider for your kit

BASIC SUPPLIES
Bandages - various sizes
Fingertip Bandages
Knuckle Bandages
Knee/Elbow Bandages
Secure Strips
Butterfly Bandages
Liquid Skin
Gauze Pads - assorted sizes
Gauze Rolls
Adhesive Tape Roll
Eye Bandage
Alcohol Prep Pads
Tweezers
Medical Gloves
Cotton Balls
Cotton Tipped Swabs
Scissors
Waterproof Tape
Pressure Bandages
Instant Cold Packs
Thermometer
Safety Pins
MEDICATIONS
Ibuprofen
Pain Reliever
Allergy Medication
Burn Relief Gel
Antibiotic Ointment
Hydrocortisone Cream
Sting Relief
Petroleum Gel/Cream
SPRAINS & FRACTURES
Splints
Triangle Bandages
Elastic Wraps
ADVANCED SUPPLIES
Chest Seal
CPR Shield
Nasal Airway & Lube
Suture Kit
Tourniquet
Scalpels
GOOD TO HAVE
First Aid Kit Guide
Survival Blanket
Emergency Whistle
Flashlight/Glow Stick
Paracord
Duct Tape
Personal Medications
Emergecy Contact Info