Best Winter Car Emergency Kits

Top-Rated Car Emergency Kits For Winter
Keep one of these kits in your vehicle during the harsh winter months
When winter time hits and the road conditions get more dangerous, it is more important than ever to be prepared by having a winter car emergency kit in your vehicle. Experiencing a breakdown in cold weather can become a life threatening situation quickly. That is why we have put together a breakdown of our best winter kits. Having a kit with the right supplies in your vehicle will give you peace of mind, save time, and may even save a life.
At Safety Kits Plus, we have done the research and the results are clear. Three car emergency roadside kits stand out above all the rest. Before we dive into our top picks, it is important to note what we were looking for when evaluating the kits.
Kit Should Be Comprehensive & Compact
It was important to the research team that the kit be comprehensive and have more than just the essential emergency supplies. At the same time, we wanted a kit that was compact and that would easily store in your vehicle. It was also important that the kit be easy to grab and go.
A Winter Kit Should Help You Keep Warm
Because we are preparing for a winter car emergency it goes without saying that the kit should have supplies that will help keep you warm if necessary. Being stranded in winter conditions can be fatal especially if your car's power stops working, or your car heater breaks. Being stuck in a cold car is definitely not an ideal situation. Therefore, we wanted to make sure that the kits had supplies in it that would help keep you and your travel companions warm.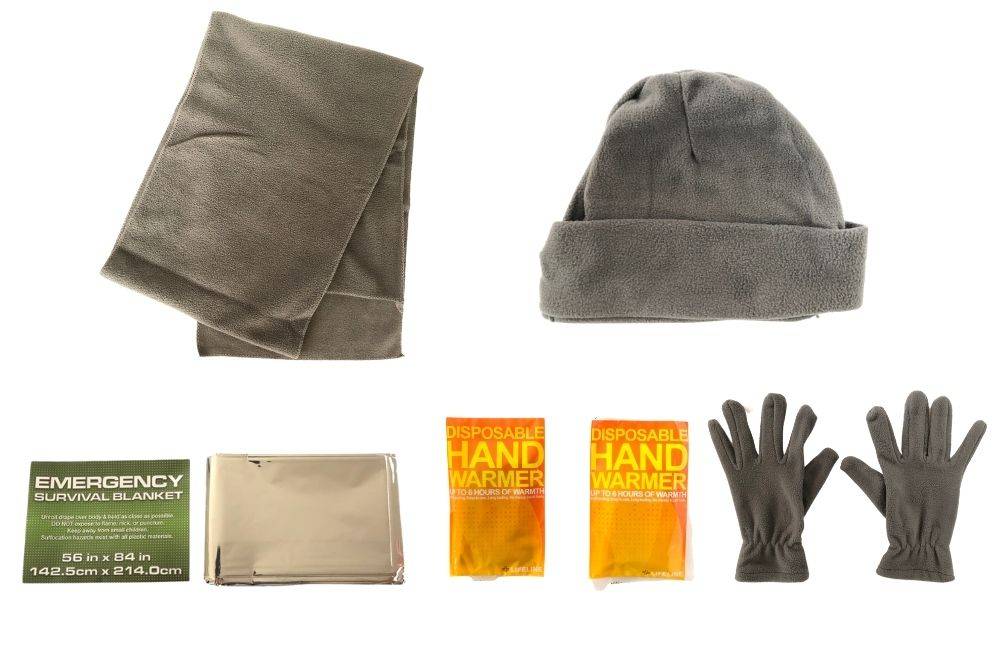 Kit Should Have Emergency Lighting
During the winter season it gets dark early. There is nothing worse than being broken down on the road, in the winter in the dark! When looking for the best car safety kit for winter, it was important that the kit have multiple alternative light sources. Not being able to see in an emergency can increase anxiety and lead to bad decision making. Having additional light sources can make all the difference in an emergency situation.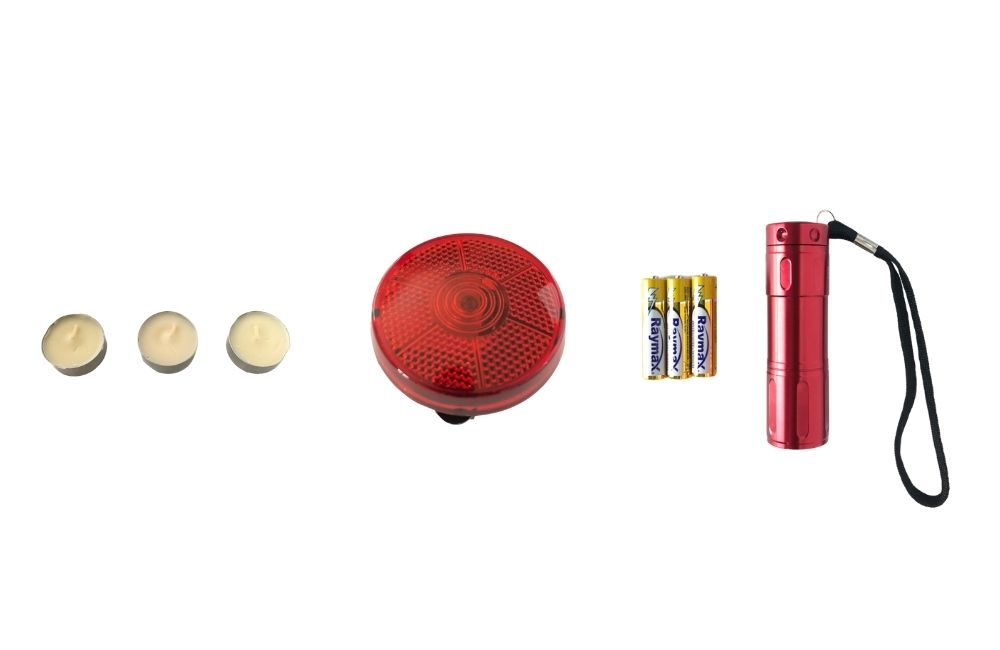 Our Top 3
Car Emergency Kits For Winter
#1 ROAD WARRIOR DELUXE CAR EMERGENCY KIT
We chose the Road Warrior Deluxe Car Emergency Kit because it is extremely comprehensive. You just might be surprised how often you'll find yourself using the folding shovel. Heavy duty 6 gauge jumper cables will get the job done if you need to jump start your car or help someone else out, and multiple light sources will keep you out of the dark. While the kit is larger, the heavy duty duffle makes it extremely easy to grab-n-go. This kit can be customized by adding your own logo or brand as well.
Get Prepared BEFORE You Hit The Road! Kit Contains:

1 Mayday Reflecting Triangle
1 Folding Snow Shovel - Chrome Plated, 37" three-piece shovel
1 12' Jumper Cables - Heavy-duty 6 gauge
1 Revolving Sign Light - 12V light w/magnetic base plugs directly into your cigarette lighter. The light revolves and be seen 1 mile away.
1 Flat Tire Fixer
1 Tow Rope - Tows up to 6500 lbs.
1 54 Piece First Aid Kit
1 High Visibility Yellow Blanket
1 Safety Vest - Neon mesh vest with reflective stripes                                     1 Distress Banner - Completely waterproof. This 36" x 15" "Emergency Help"
1 Utility Knife
1 14 in 1 Pocket Tool
1 Heavy Duty Work Gloves
10 yds. of Duct Tape
1 Ice Scraper with Glove
1 Flashlight w/ 2 D Alkaline Batteries
1 Body Warmer
1 Solar Blanket
1 Adult Poncho
1 10" Adjustable Wrench
1 6 n 1 Screwdriver
2 12 Hour Light Sticks
2 Pair of Hand Warmers
#2 AAA WINTER ROADSIDE EMERGENCY KIT
The AAA Winter Roadside Emergency Kit has been recommended for many years by experts in the field. This compact unit is easy to store yet has enough room to add your personal items. This kit has everything we were looking for and more. Essential first aid supplies, fleece hat, scarf and gloves and multiple light sources make this unit a must have for any vehicle. This kit is economical and makes a terrific gift to protect your family and friends.
Prepare For Winter Weather & Harsh Road Conditions. See What's Inside The Kit:
1   AAA Hard-Shell Foam Case
1   First Aid Guide
1   Sting Relief Pad
6   Antiseptic Towelette
15   3/8" X 1-1/2" Bandage
20   3/4" X 3" Bandage
1   2" X 2" Sterile Gauze Pad
1   1/2" Adhesive Tape Roll
3   AAA Batteries
1   Emergency Whistle
1   LED Safety Strobe
2   Hand Warmer
1   Survival Blanket
3   Emergency Candle
1   Quick-Spark Fire Starter
1   Accident Forms & Guidelines
1   AAA Membership Brochure
1   9 LED Aluminum Flashlight
3   Piece Fleece Set w/Cap, Gloves And Scarf
1   Folding Shovel w/Sheath
1   Ice Scraper
#3 ROAD WARRIOR STANDARD CAR EMERGENCY KIT
The Standard Road Warrior Car Emergency Kit is a great alternative to the deluxe version. It contains all of the same essential supplies that keep you prepared for the unexpected emergency while out on the road. With only a few minor content adjustments this unit is affordable and will be greatly appreciated if ever needed.
Emergency car kits for winter are a great way to quickly jump start your preparedness for the harsh winter roads. In addition to the supplies included in these kits, we suggest that you also add food bars and drinking water to the kit or in your trunk. It's always a good idea to keep some extra layers of warm clothing in your car as well.
It is important to maintain your emergency car kits for winter on a regular basis. Take the time twice a year to inventory the supplies and replace any expired or depleted supplies There are some great suggestions on how to drive safely in winter conditions here at transportation.gov
This Kit Will Jumpstart Your Preparedness, See What's Included:

1 Mayday Reflecting Triangle
1 Folding Snow Shovel - Chrome Plated, 37" three-piece shovel
1 12' Jumper Cables - heavy-duty 6 gauge
1 Flat Tire Fixer
1 Tow Rope - Tows up to 6500 lbs.
34 Piece First Aid Kit
10 Plastic Bandages 3/4'' x 3''
10 Plastic Bandages 3/8'' x 1 1/2''
2 Gauze Pads 2'' x 2''
3 Alcohol Wipes
1 Butterfly Bandage
10 Cotton Tips
1 Carry Case
1 High Visibility Yellow Highway Blanket
1 Safety Vest - Neon mesh vest with reflective stripes.
1 Utility Knife
1 14 in 1 Pocket Tool
1 Work Gloves Leather Palm
10 yds of Duct Tape
1 Ice Scraper with Glove
1 Flashlight w/ 2 D Alkaline Batteries
1 Solar Blanket
1 Adult Poncho
1 Deluxe Sports Bag with Two End Pockets, One Front Pocket , Double Zipper Center Compartment & Shoulder Strap
1 12 Hour Light Stick
1 Pair of Hand Warmers                         1 Distress Banner 36" x 15" "Emergency Help"
How To Choose Which Kit Is Best For You?
The easiest way to answer this question depends on whether you already have a roadside emergency kit in your vehicle. If you do not have a safety kit in your car already, then you will definitely want to choose either the Deluxe or Standard Road Warrior kits, as both of these kits in addition to the winter specific gear and equipment have essential tools and equipment such as: jumper cables, tow ropes, first aid kits, reflective safety triangles, flashlights, emergency blankets, ponchos, flat tire fixer, and more to help you be prepared for breakdowns and accidents year-round. So you will be better prepared for your road trips and daily commute with either kit.
If you already have a comprehensive roadside emergency kit in your vehicle with the essential tools and equipment, and are looking to add winter specific gear to help protect you during the harsh winter season, then you will definitely want to choose the AAA Winter kit. It is designed to help boost your preparedness for the winter roads, and makes the perfect addition to your other kit.
Customizing Your Winter Car Kit
While our top 3 kits are professionally designed and filled with essential tools and equipment to help you stay safe on the road, we always recommend that you customize the kit to meet you and your family's specific needs.
In case of a breakdown, accident, or simply a situation where it is too dangerous to keep driving and you have to pull over and wait out a winter storm, you want to be as comfortable and as warm as possible. In addition to the supplies in these kits, we suggest that you pack extra layers of warm clothes such as beanies, fleeces, socks, and blankets in your vehicle. Make sure you have enough for each person who is traveling with you. You never know when road conditions may force you to wait for upwards of hours or even days at a time, and you want to be able to stay warm.
Before heading out on road trips in winter conditions be sure to pack some extra drinking water and snacks as well. Adding personal items and emergency water and food can truly be lifesaving.
If you are planning on a road trip or a long drive, you may also want to consider packing extra personal medications that you may need. As well as extra sets of contacts or spare glasses just in case.
Both of the Road Warrior kits have extra room in the bags for adding personal items and customizing the kit. If you run out of room in any of the kits, we suggest packing an extra bag or back pack with the extra safety items you want to add to your kit and keep in an easily accessible location in your vehicle.
Be Seen On The Side Of The Road With LED Road Flares
One of the most dangerous aspects of being broken down or stuck on the side of the road is the traffic driving by you. It is extremely important that you be seen and that you alert other motorist that you and your car are there. This is even more true in harsh winter conditions where visibility can be limited. Having a kit of LED safety rod flares are the answer to helping you stay safe. They come kits of 3 flares, 6 flares, or 12 flares. Each flare has 15 LED lights with 9 different flashing modes, and up to 60 hours max of run time. They can be laid out near your car or have magnets so you can attach them to your vehicle. They are visible up to 1 mile at night. Hands-down the best way to alert cars of your presence on the road. Add these to one of the car emergency kits above and you will be prepared for the winter roads.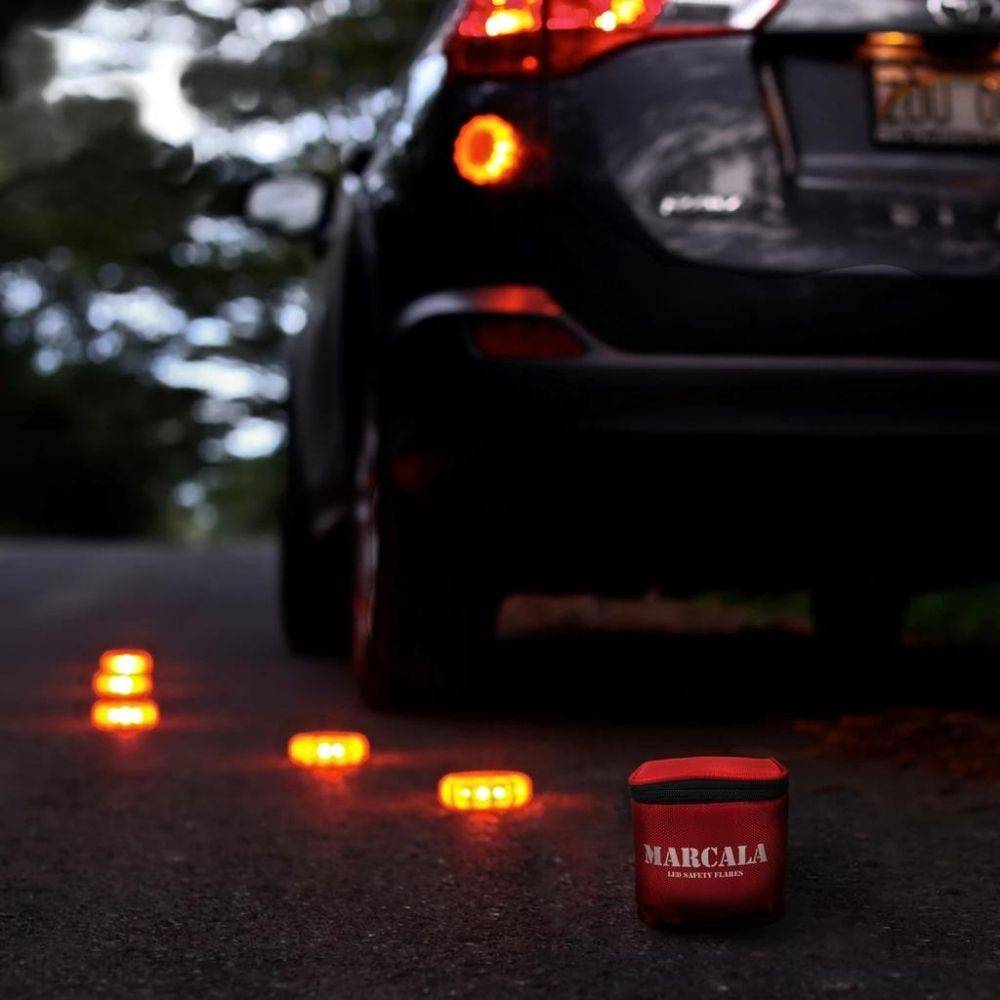 Complete Winter Car Survival Kit List
Top 15 Items To Keep In Your Vehicle During The Winter Months
First Aid Kit
It is always important to have a basic first aid kit in your vehicle no matter what time of year it is. These kits can come in handy for minor injuries such as cuts and scrapes.
Snow Shovel
This is a very versatile tool to have in your car during winter, you can dig your car out of the snow or even help out someone else in need
Ice Scraper
One of the most important elements to staying safe in the harsh winter conditions is being able to see clearly out of your vehicle's windows. An ice scraper can help you clear the windows and see easier by quickly removing built-up ice
Warm Clothes and Blankets
Staying warm in case of a breakdown, accident, or even when you are just stuck on the side of the road due to bad weather is crucial. Extra clothing and blankets can save the day. Make sure you have enough for everyone in your vehicle
Hand Warmers
Speaking of staying warm, hand warmers are the essential item you may have not known you needed but will be very happy you have in your kit. In case you do have to get out of your car, your hands will be very thankful that you have these.
Emergency Blanket
In an emergency situation having an emergency or space blanket can truly be lifesaving, and that is why it makes the list of essential items to have in your kit
Reflective Safety Triangles
Deploy safety triangles as an advanced warning to other motorist that you are stopped on the road or side of the road.
LED Road Flares
In addition to having a reflective safety triangle, deploying LED Road Flares can help you be seen up to 1 mile away and can even help you signal for help and rescue
Flashlight
With limited daylight during the winter months and in case you are traveling during lowlight or dark conditions, having a flashlight is crucial. Be able to see better in the dark and even signal for help.
Multi-tool
Having a versatile multi-tool can help you make repairs to your vehicle and get you back on the road quicker
Jumper Cables
In the colder winter months your battery is more prone to dying, so having a way to jump to it can get you back on the road and to your destination safer. If your vehicle is newer then you may want to consider also getting a portable powerbank that can also jump your car battery.
Tow Rope
A strong and capable tow rope is very helpful to have on hand. Can be used to get your vehicle unstuck or out of the snow and to help other motorists who may be in need of assistance.
Duct Tape
The unsung hero of every safety kit. There are endless uses for duct tape and it can really help you out of a lot of jams.
Extra Batteries
Always keep extra batteries on hand for items like your flashlight
Emergency Food and Water
Most kits do not come with emergency food or water or enough of it for a car full of people. That is why it is so important to customize any kit you invest in. We recommend keeping water and snacks in your kit in case you have to spend an extended period of time in your vehicle waiting for help or waiting for weather to pass. You will be very thankful that you have it on hand in these situations.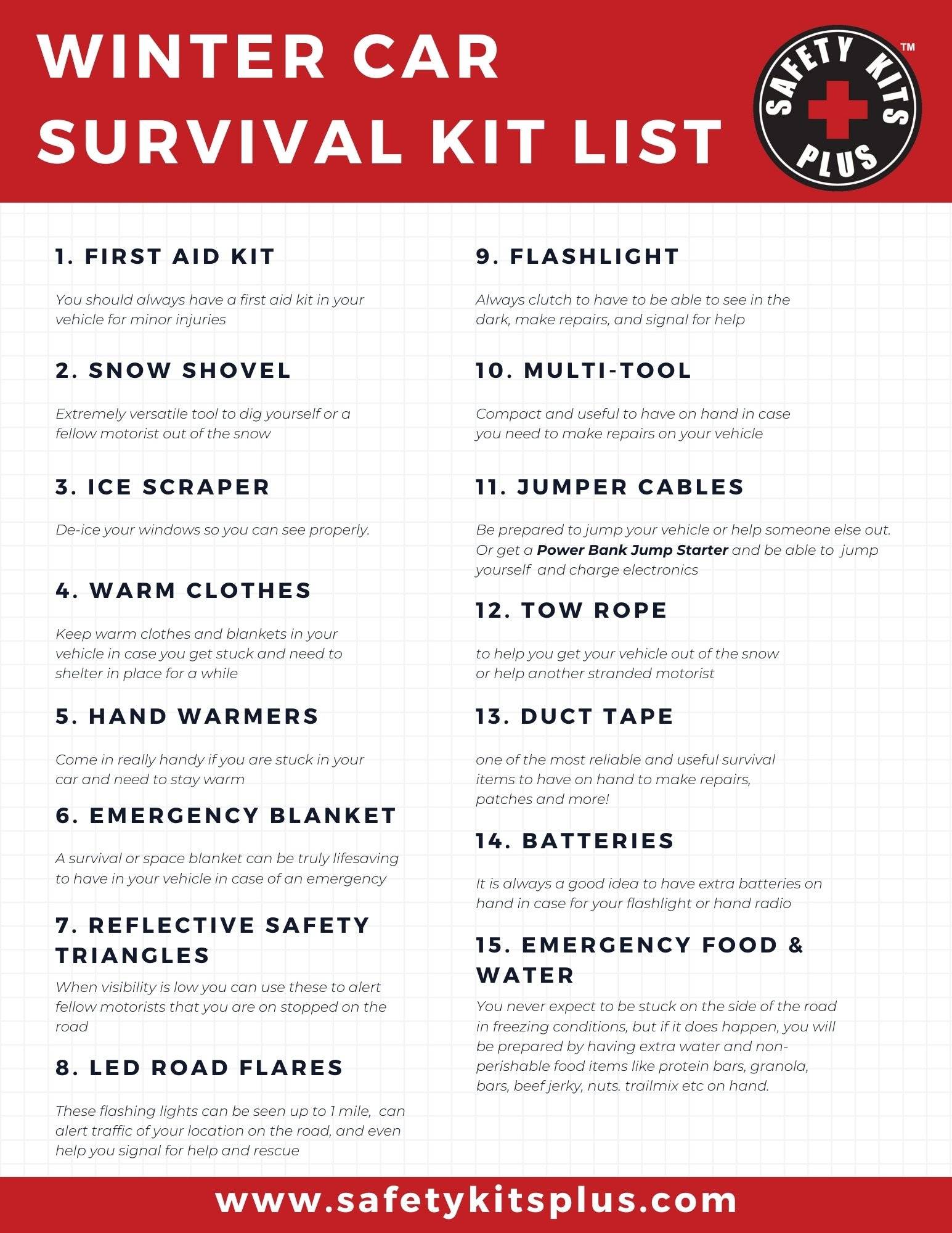 click to download the checklist