First Aid Kits For Hiking & Adventures
Always be prepared when you head out into mother nature and never hike without a first aid kit
The COVID-19 pandemic has taken quite a toll on our mental well-being. 





While some people paint, cook, binge-watch TV series or read, some like to take the path less traveled; yes, the hiking path.



According to the Outdoor Industry Association, there was a significant increase in the number of Americans who headed outside for new activities during the pandemic. 



If you, too, are planning to head into the wilderness, one of the primary things you need to take care of is your first aid kit for hiking.





By being prepared and ready for any potential misadventures, you can avoid your fun trip from turning into a misfortune. 





Whether it is a headache or a fracture, you can efficiently deal with injuries with your first-aid kit at your disposal. 





This article takes you through some of the best first aid kits and what you need to look for while buying first aid kits for hiking and backpacking.





Let us get started.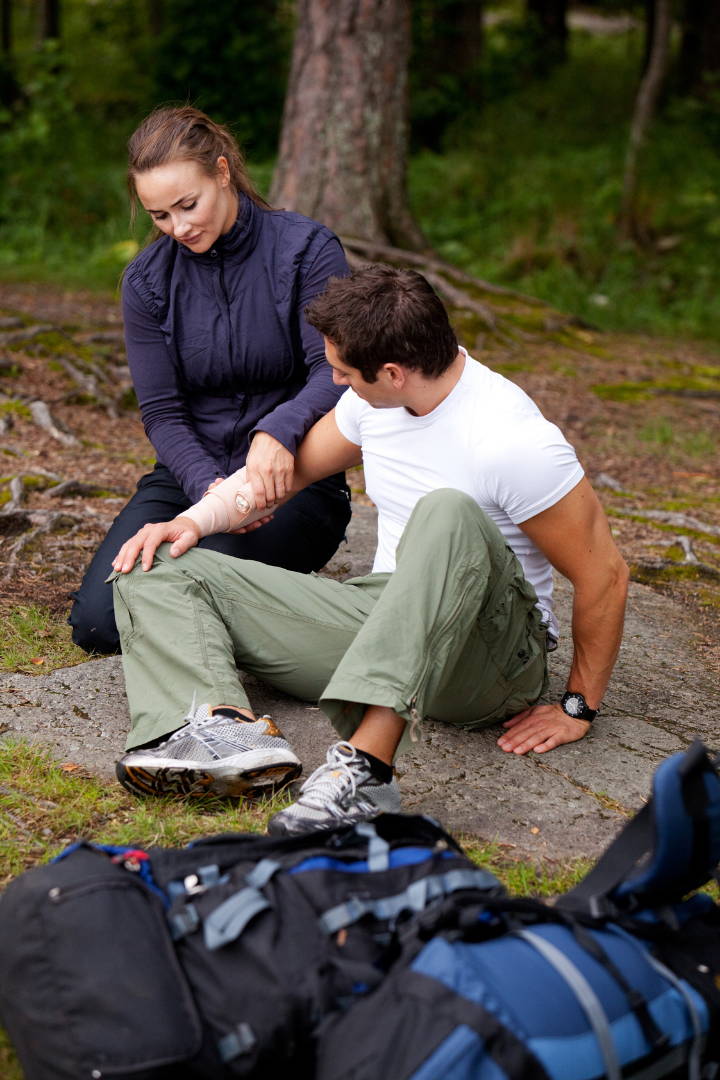 Top 5 First Aid Kits for Hiking & Backpacking
This is one of those well-rounded first aid kits filled with essential supplies that meet the needs of a small group of  families out exploring mother nature. With 85 top-quality medical supplies, you will hike with confidence knowing you are prepared for most of the common injuries on the hiking trails. This is one of our favorite overall first aid kits.  It is compact and will fit nicely in your backpack. Great for small groups of 1-4 people.

Yes, this one too comes in a PRO version that makes our list at #4.

See everything that is included in the kit here.
At Safety Kits Plus, we believe you should be prepared for an emergency or a unexpected injury anywhere. Be ready on the road as you travel to your adventure by having this kit in your vehicle, and then throw it in your backpack and bring it with you on your hiking or camping trip. It compact and filled with both essential and more advanced first aid supplies. This is by far one of our favorite and best selling kits. 
Great for small groups of 1-4 people.


See everything that is included in the kit here.
A team sports coach's kit makes the list you may ask? Yes! This kit is filled with all kinds of useful first aid supplies that can come in handy when you are out exploring. It has a wide variety of bandages for cuts and scrapes including ointments to clean and heal those cuts. It also includes supplies to wrap sprains which is very helpful when you are hiking and roll and ankle. The ice packs are very useful as well. All of these great supplies fit in a compact and lightweight bag, making it ideal to take with you anywhere.
Great for small groups of 1-5 people.


See everything that is included in the kit here.
The PRO version of the MyFAK first aid kit includes all of the same amazing supplies as the Standard kit, but also has some serious upgrades. It includes advanced supplies like a tourniquet, bleeding control dressing, chest seal and nasal airway tube, micromend kit for deeper cuts and lacerations, and more. It also comes with survival gear like paracord, a survival blanket and safety whistle. With over 100 useful supplies this kit is extremely reliable when you are out on an adventure and help is a long ways away. 
Great for small groups of 1-5 people.


See everything that is included in the kit here.
Planning an overnight adventure or camping trip? The 20L Survival Backpack Kit is what you need. The kit has been specially curated to cover the primary and essential survival gear, including a well-stocked and useful first aid kit. 

Moreover, the bag is made of premium quality materials that ensure the kit is waterproof, durable, and can also be inflated to be used as a floatation device.

See everything that is included in the kit here.
Is It Necessary to Bring a First Aid Kit With You on Your Hike?
The simple answer is, yes.
Many hikers and backpackers tend to ignore the impact an emergency in the wild can have on their safety.
They have a carefree approach concerning their health and safety when out in the wild.
This lax attitude isn't a wise approach to hiking, & especially for backpacking trips because:
a. The terrain you enter is rough, and this makes you susceptible to injuries of all kinds. In fact, the types of injuries that might befall you on a hike are simply overwhelming.
b. People often backpack in remote and wild areas. This generally means there won't be any accessible medical assistance while you are at it, which is why self-assistance becomes crucial to survival in case of an emergency. If need be, you should be able to treat yourself with the first aid kit before you call for help. A well-prepared first aid kit for backpacking does the job perfectly.
What Essential First Aid Supplies Should Be in Your Kit?
Now that we have established the importance of first aid kits for hiking and backpacking let us proceed with the essential items you should to carry in a kit:
Bandages - assorted sizes & uses

Antiseptic Ointment

Medical Gloves

Gauze Pads

Gauze Rolls

Elastic Wraps

Alcohol Prep Pads

Burn Gel

Bite & Sting Relief

Pain Medication

Allergy Medication

Tweezers

Scissors or Shears

Splints

Adhesive Tape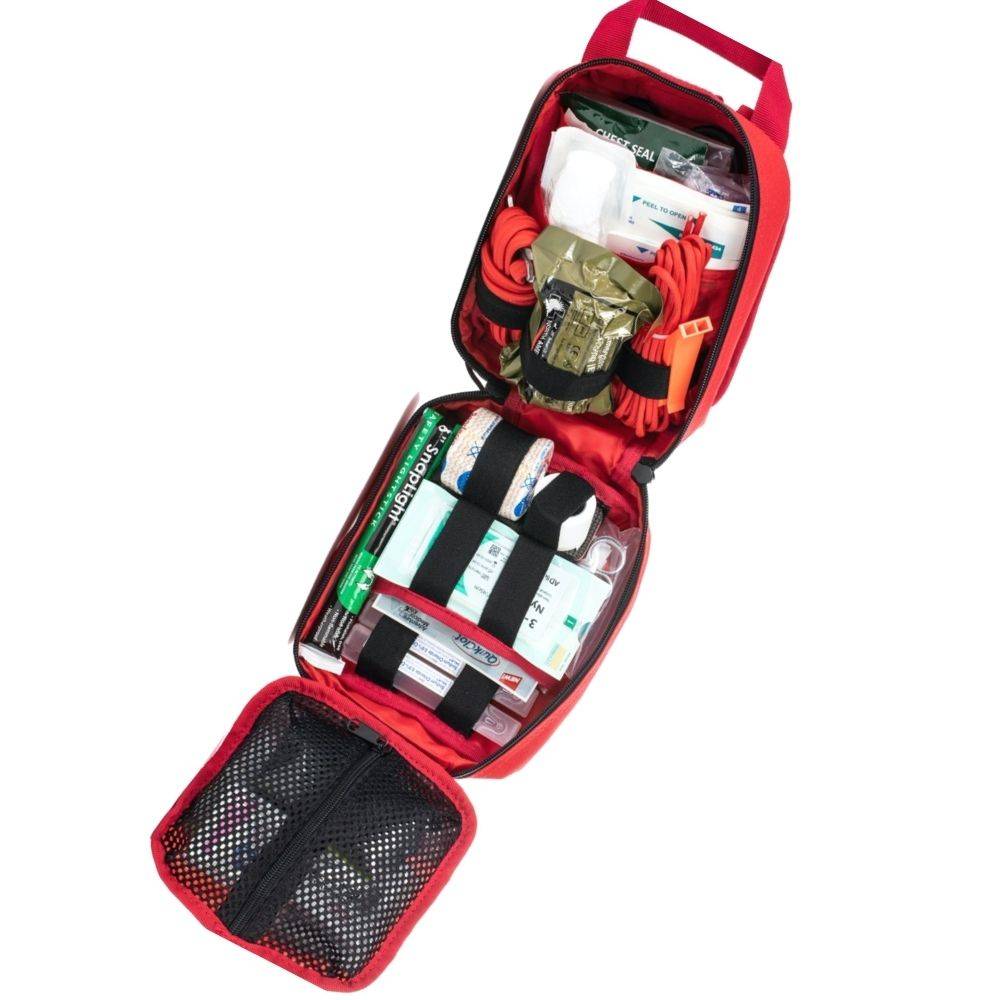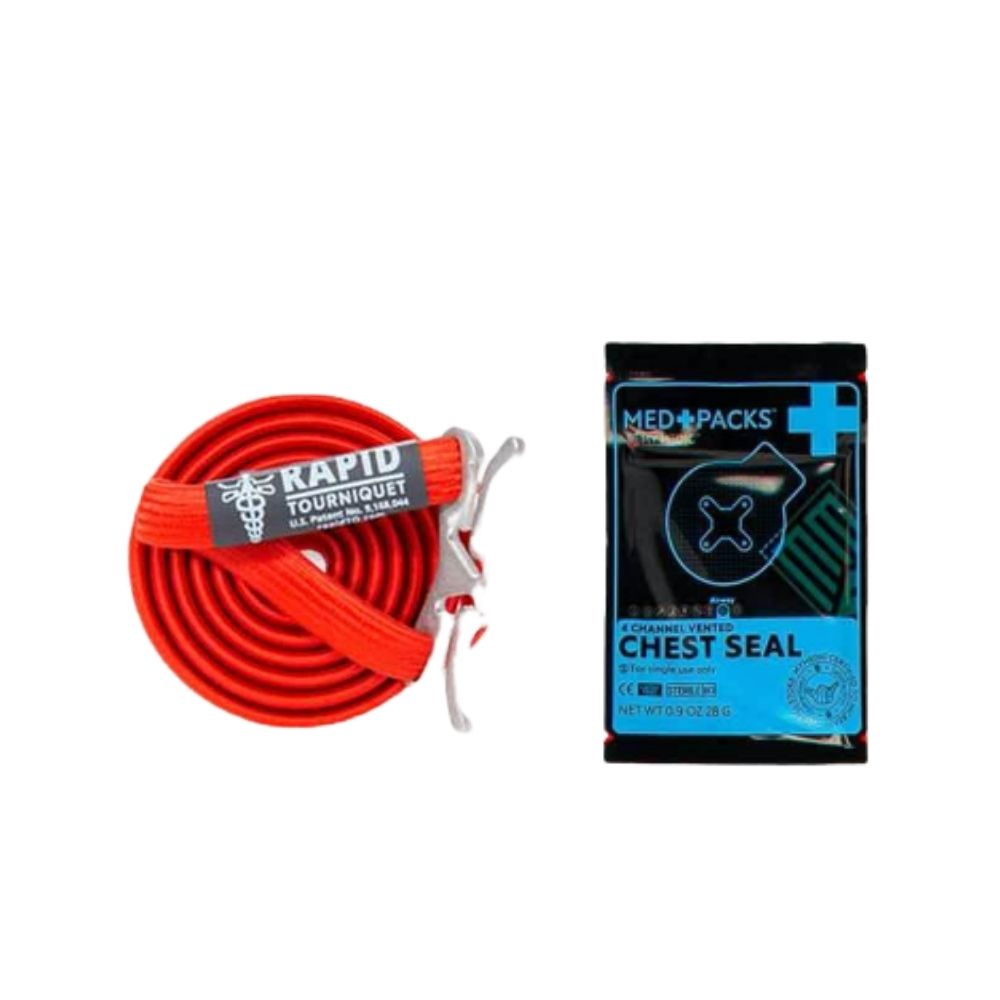 By all means, this list is not comprehensive and only covers the essential items.
On more remote hiking adventures is may be beneficial to have more advanced supplies in your kit such as:
Tourniquet

Thermometer

CPR Shield

Chest Seal

Suture Kit

Survival Blanket

Whistle

Light Source

Hydration Tablets
Usually, most hiking trips are impromptu plans. Given our busy lives and erratic schedules, we may or may not get the time to collate the necessary first aid supplies in time.
So, what do we do? Give up on first aid and take the risk? No, that would be foolish.
The way out is to choose pre-assorted first aid kits that include the right supplies to battle any emergency.
Let us take a look at them.