HELPING TRUCK DRIVERS
STAY SAFE ON THE ROAD

MEMBERS ONLY EXCLUSIVE OFFER
save on first aid kits for your rig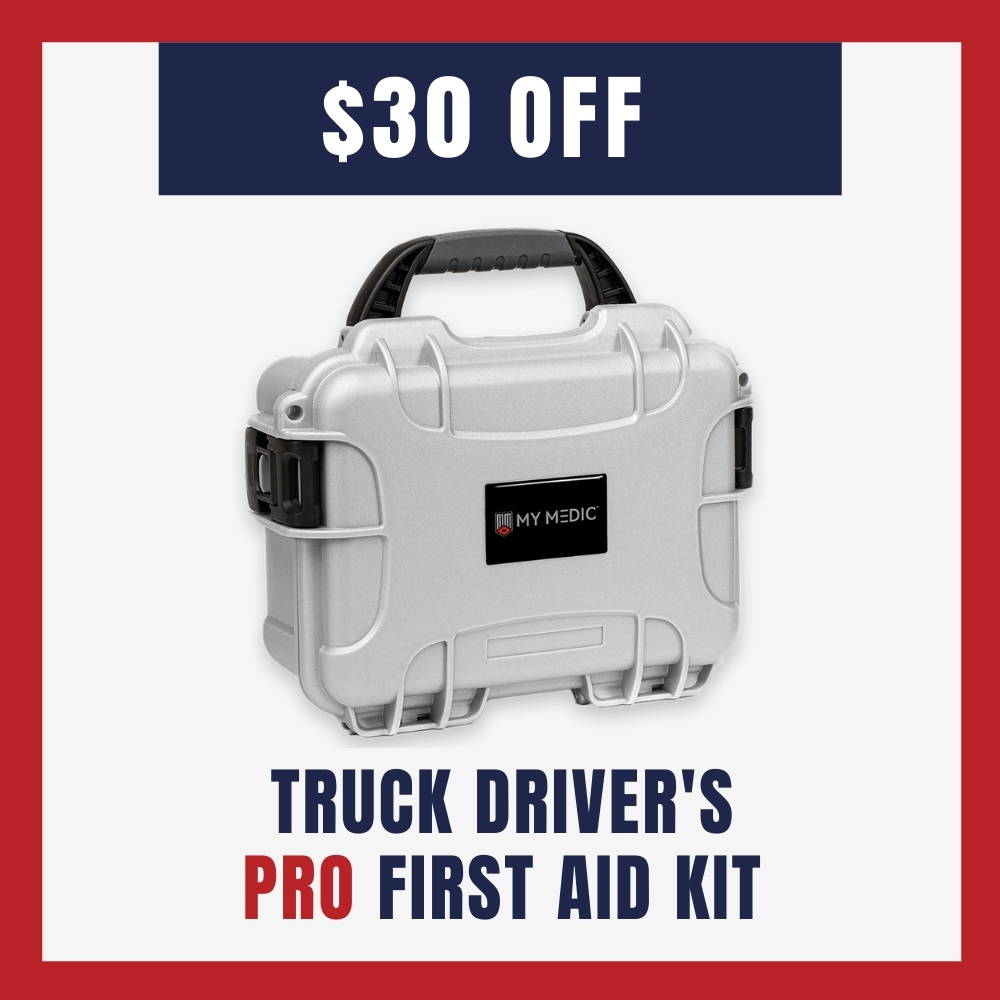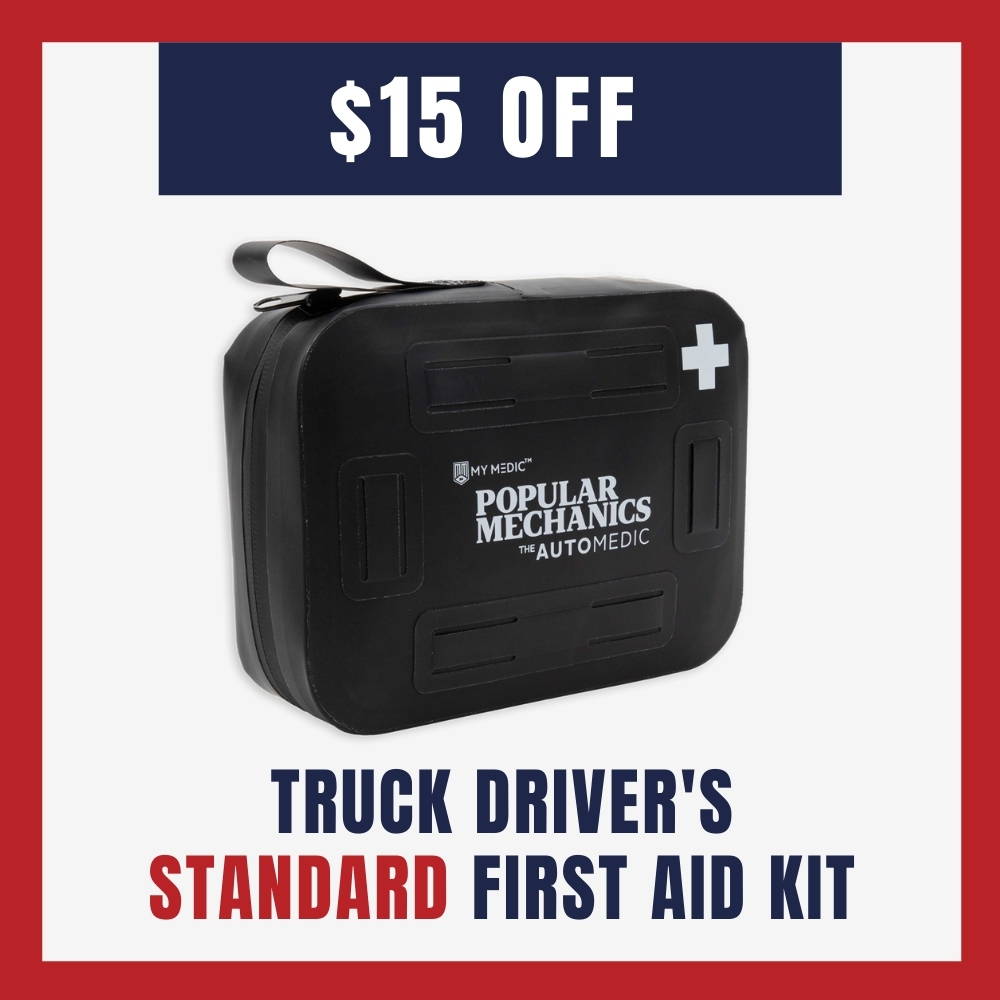 Great advanced style kit for both minor injuries and more serious emergencies
Case is waterproof and crush proof
Easily store in your truck for easy access
Equipped with high-quality first aid supplies
Advanced "PRO" supplies include: wound closure mod, sprain & fracture, chest seals and more
HSA/FSA Approved
Built in the USA
Kit Dimensions: 12.5" x 10" x 6

BLEEDING
1 Rapid Tourniquet
1 QuikClot
1 Emergency Pressure Bandage
1 SuperSkin Bandage Assorted Pack
- 6 SuperSkin Bandages | 1 in. x 3 in.
- 3 SuperSkin Bandages | 2 in. x 4 in.
- 2 Fingertip SuperSkin Bandages.
1 Gauze MOD
- 2 3x4 Non-Adherent Pad
- 3 2x2 Non-Adherent Pad
- 2 2x2 Gauze Pad
- 2 4x4 Gauze Pad
- 12 Gauze Roll
- 13 Gauze Roll
MEDICATION
1 Medication MOD
- 4 Ibuprofen
- 2 APAP
- 2 Aspirin
- 2 Diotame
- 2 Dramamine
- 2 Diphen
- 2 Diamode
- 2 Decorel Forte
1 Upset Stomach Med Pack
- 1 Barf Bag
- 1 Mint
- 1 Hand Wipe
- 1 Medi-Meclizine
- 1 Diotame
- 1 Diamode
TOPICAL
1 Super Wash (for irrigating wounds and eyes)
1 Clean & Prep MOD
- 4 Antiseptic Wipes
- 4 Hand Sanitizer
- Iodine Prep Pad
1 Treatment & Relief MOD
- 3 Triple Antibiotic Ointment Packets
- 2 Lip Balm Packets
- 2 Sunscreen Packets
- 2 Sting Relief Packets
- 1 White Petrolatum Packets
- 2 Hydrocortisone Packets
- 2 Oral Pain Relief Packets
- 1 Ammonia Towelette
- 1 Friction Frosting (Chamois Butter)
TOOLS & DEVICES
1 Gloves Packet (2 Gloves)
1 Cloth Surgical Tape
1 Large EMT Shears
1 BillyBand Halfing
1 Tools MOD
- 1 Penlight
- 1 Tweezer
- 1 Thermometer
- 5 Thermometer Sheaths
- 1 Whistle
1 Mini Wound Closure MOD
- 1 Pack of 3 Secure Strips
- 1 Tube Liquid Skin
1 Zzips 2 Pack
- 2 Zzips Devices
- 1 Instruction for use



SPRAIN & FRACTURE
1 Instant Cold Pack
1 Flat Splint
1 Mini Strain & Fracture MOD
- Finger Splint
- Sense Wrap 1' x 15'
- 1 Triangle Bandage
- Elastic Wrap 1.2' x 15'
BURN
1 Burn MOD
- 4 Burn Gel Packets
- 1 4x4 Burnshield
HYDRATION
1 Hydration MOD
- 2 KoKos Hybridation Packets
- 2 Water Purification Tablets
OUTDOOR
2 Space Blanket
1 Whistle
1 Paracord 25'
1 Lightstick
1 Glucose Gel Packet
1 Blister MOD
- 3 SuperSkin Blister Tape
AIRWAY
1 CPR Shield
2 Chest Seals
1 NPA 28 Med Pack
- 1 NPA 28
- 1 Dynalube Packet
Great basic kit to have on-hand for minor injuries, cuts, and scrapes
Compact and easy store
Well-stocked with high-quality first aid essential supplies
HSA/FSA Approved
Built in the USA
Kit Dimensions: 12.5" x 10" x 6

BLEEDING
1 Rapid Tourniquet
1 Krinkle Gauze
1 SuperSkin Bandage Assorted Pack
- 6 SuperSkin Bandages | 1 in. x 3 in.
- 3 SuperSkin Bandages | 2 in. x 4 in.
- 2 Fingertip SuperSkin Bandages.
1 Mini Gauze MOD
- 2 2x2 Non-Adherent Pad
- 2 2x2 Gauze Pad
- 1 4x4 Gauze Pad
- 2 Conforming Gauze Roll
- 13 Gauze Roll
MEDICATION
1 Medication MOD
- 4 Ibuprofen
- 2 APAP
- 2 Aspirin
- 2 Diotame
- 2 Dramamine
- 2 Diphen
- 2 Diamode
- 2 Decorel Forte
TOPICAL
1 Treatment & Relief MOD
- 3 Triple Antibiotic Ointment Packets
- 2 Lip Balm Packets
- 2 Sunscreen Packets
- 2 Sting Relief Packets
- 1 White Petrolatum Packets
- 2 Hydrocortisone Packets
- 2 Oral Pain Relief Packets
- 1 Ammonia Towelette
- 1 Friction Frosting (Chamois Butter)
TOOLS & DEVICES
1 Gloves Packet (2 Gloves)
1 First Aid Guide Book
1 Small EMT Shears
1 Barf Bag
1 Mini Tools MOD
- 1 Penlight
- 1 Tweezer
- 1 Whistle
1 Zzips 2 Pack
- 2 Zzips Devices
- 1 Instruction for use


BURN
1 Burn MOD
- 4 Burn Gel Packets
- 1 4x4 Burnshield
TOPICAL
1 Super Wash
1 Clean & Prep MOD
- 4 Antiseptic Wipes
- 4 Hand Sanitizer
- Iodine Prep Pad
OUTDOOR
1 Space Blanket
1 Lightstick

AIRWAY
1 CPR Shield


If you have any concerns or issues with your safety kit, please reach out to us and we will remedy it for you. Your safety and satisfaction are our top priorities.
*Discounts are reflected in the listed price
DISCLAIMER
*By ordering MyMedic First Aid Kits from Safety Kits Plus, Safety Kits Plus assumes no liability for their misuse.
*MyMedic reserves the right to replace individual supplies within First Aid Kits and Med+Packs with supplies of equal value at their discretion.
with a well-equipped first aid kit onboard