Best Safety Tips On How To Drive In The Snow
Driving in the winter means snow, sleet, and ice that can lead to slower traffic, hazardous road conditions, hot tempers and unforeseen dangers. Following our best safety tips for winter driving below will help you navigate the roads safely. And be prepared for the harsh winter road conditions by having a top-rated winter car emergency kit in your vehicle.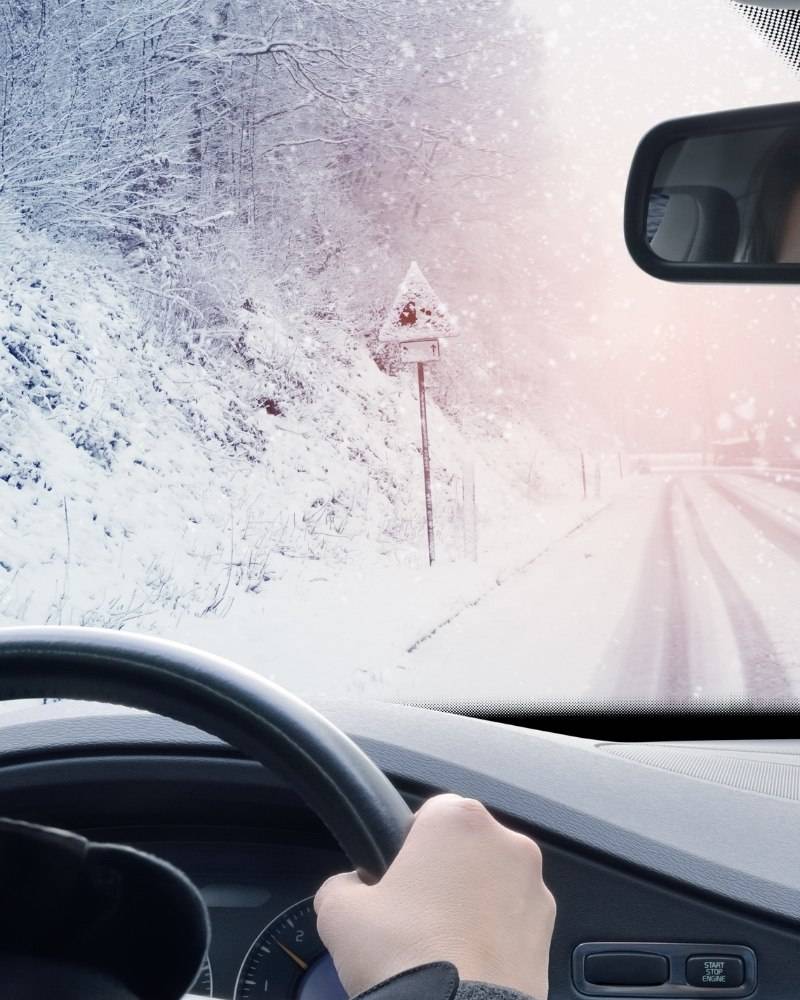 Check The Weather BEFORE You Go

Weather affects driving conditions whether it is 20 degrees below, over 100 degrees out, raining, windy, sleeting, snowing, or there is ice on the road. Knowing the weather forecast before you hit the road is extremely important.
Lookup the latest weather reports, listen to forecasts on radio, TV, for the forecasts of the local forecasts, along the route you are traveling, and in your final destination.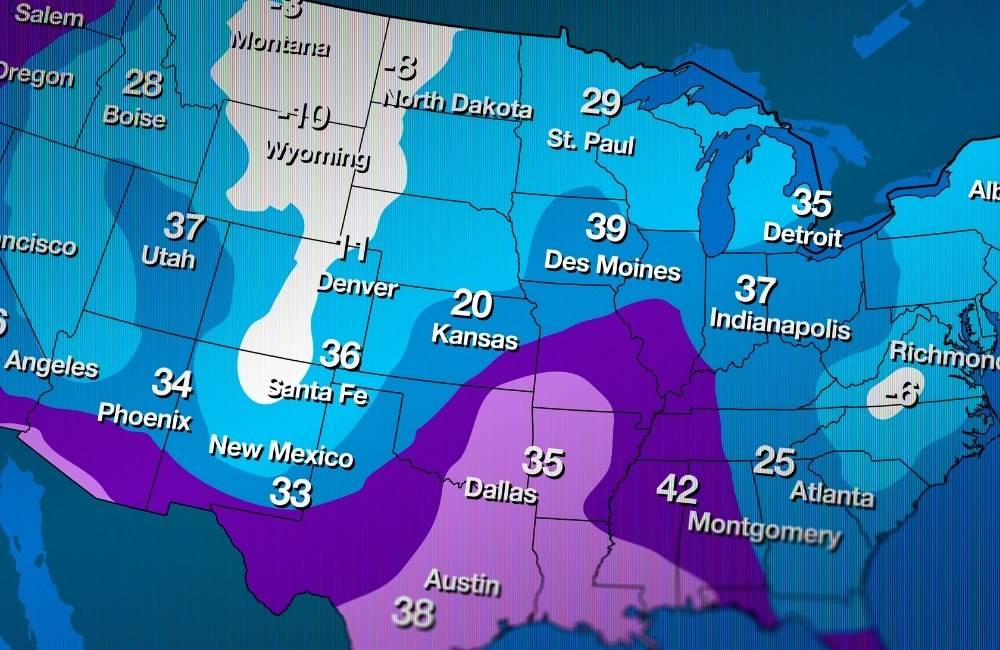 Give Your Car A Thorough Inspection

It is highly recommended that you give your car a thorough check over before you venture out in the harsh winter conditions. Making sure that your car is prepared for the journey can truly be the difference between a safe traveling experience and a dangerous one. Prepare your car for winter yourself or stop at a gas station and have the service station help you:
Make sure you have a full tank of gas

Make sure your car is fully charged (electric vehicles)

Check the ignition, brakes, wiring, hoses and fan belts

Change and adjust the spark plugs

Checking the air, fuel and emission filters, and the PCV valve

Inspect the distributor

Check the battery

Check the tires for air, sidewall wear and tread depth

Check all fluids, antifreeze level and the freeze line
Best Safety Tips For How To Drive In The Snow

Snow, sleet, rain, and ice combined with cold conditions can make the roads very dangerous. If you absolutely do not have to be somewhere, think about staying in place instead of getting on the road until conditions improve. If you must get on the road then follow these tips for winter driving and how to drive in snow.
Go slow - slowing down, give yourself more time to react and adapt to the conditions.
Go easy on the gas and brakes - avoid hitting the gas pedal or brake too quickly, ease into both so the tires can gain traction in snow or ice.
Keep your distance - increase the distance between you and the drivers ahead of you. As you approach traffic lights and stops signs, begin braking early and slowly come to a rest/stop. Do not travel close behind snow plows or next to them.
Avoid distractions - keep your attention on the road, be on the look out for potential hazards, and pay attention to how your car is responding to the road and the conditions. Keep music low or off. Avoid using your phone.
Be aware of potential hazards - take extra precautions near bridges and going up and down hills.
Do not try to power your way out of being stuck - instead of hitting the gas and trying to force your way out of being stuck in the snow, ease into it and slowly apply the gas
If you go over an ice patch do not slam on your breaks - if you begin to spin, stay calm and try to turn into the spin
Do not drive impaired - do not drive under the influence
Do not use cruise control
Wear your seatbelt
Keep a winter car emergency kit and extra supplies in your vehicle - you never know when you may get stuck on the side of the road, having a winter kit and winter gear can make all of the difference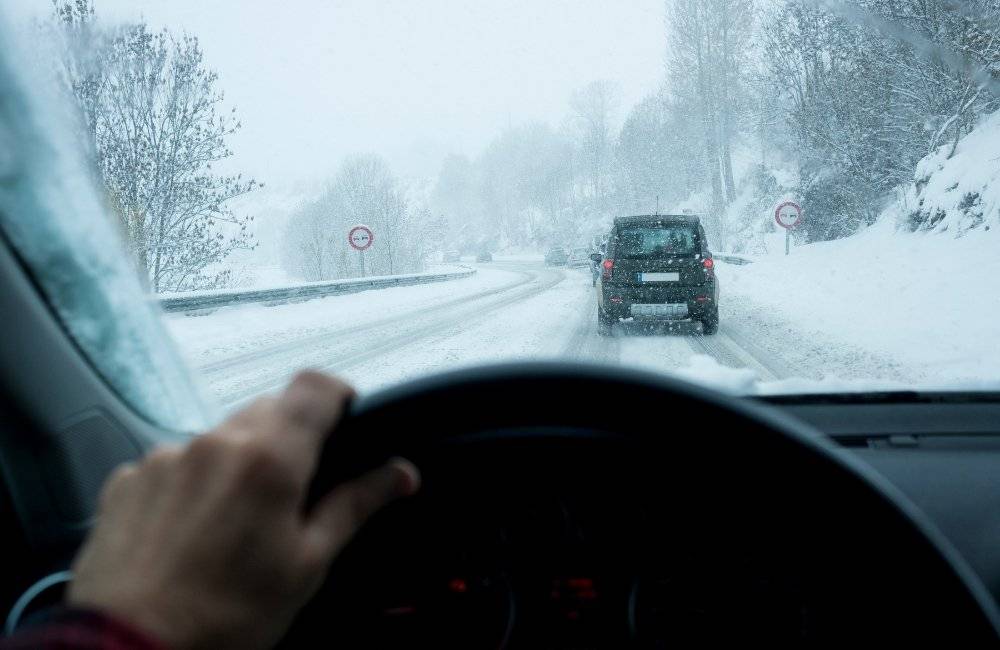 What To Keep In Your Car During The Winter

Having basic tools and useful gear in your car throughout the winter season combined with having an emergency kit with essential supplies can be really be a life saver. You never know when the weather may turn for the worse, or you when you may get in an accident, or breakdown and be stuck for a period of time in cold weather. Be prepared for the worse case scenario and have these items readily available with you.
A properly inflated spare tire, wheel wrench and tripod-type jack

A folding shovel

Air compressor or fix-a-flat for your tires

Heavy gloves

Tow and tire chains

A bag of salt or cat litter

Working flashlight and extra batteries

Reflective triangles, flares and brightly-colored cloth

Compass

First Aid Kit with a variety of bandages

Exterior windshield cleaner

Ice scraper and snow brush

Small candles

Wooden stick matches in a waterproof container

Scissors and string/cord

Non-perishable, high energy foods like unsalted canned nuts, dried fruits, and hard candy

Water - keep fresh drinking water in your car
When driving long distances in winter conditions carry supplies to keep you warm such as heavy woolen mittens, socks, a cap, and blankets.
Best Winter Car Emergency Kits

It is a very good idea to have an emergency car kit for winter in all your family's vehicles. These kits include many of the items listed above that are essential to have in your car in case of an emergency situation or even a simple breakdown on the road during the winter months.
Great car safety kits for winter may include: shovel, windshield scrapper, flashlight, batteries, battery or hand powered radio, water pouches, food bars, waterproof matches, extra hats, gloves, scarfs, emergency blankets, a good first aid kit, jumper cables and safety triangles.
While getting a great emergency kit such as the ones below, it is also highly recommended that you supplement and beef up your kits and supplies with items that you and your family could possibly need in an emergency situation.
This Kit Will Jumpstart Your Preparedness

1 Mayday Reflecting Triangle
1 Folding Snow Shovel - Chrome Plated, 37" three-piece shovel
1 12' Jumper Cables - heavy-duty 6 gauge
1 Flat Tire Fixer
1 Tow Rope - Tows up to 6500 lbs.
34 Piece First Aid Kit
10 Plastic Bandages 3/4'' x 3''
10 Plastic Bandages 3/8'' x 1 1/2''
2 Gauze Pads 2'' x 2''
3 Alcohol Wipes
1 Butterfly Bandage
10 Cotton Tips
1 Carry Case
1 High Visibility Yellow Highway Blanket
1 Safety Vest - Neon mesh vest with reflective stripes.
1 Utility Knife
1 14 in 1 Pocket Tool
1 Work Gloves Leather Palm
10 yds of Duct Tape
1 Ice Scraper with Glove
1 Flashlight w/ 2 D Alkaline Batteries
1 Solar Blanket
1 Adult Poncho
1 Deluxe Sports Bag with Two End Pockets, One Front Pocket , Double Zipper Center Compartment & Shoulder Strap
1 12 Hour Light Stick
1 Pair of Hand Warmers                         1 Distress Banner 36" x 15" "Emergency Help"
Prepare Before You Hit The Road

1 Mayday Reflecting Triangle
1 Folding Snow Shovel - Chrome Plated, 37" three-piece shovel
1 12' Jumper Cables - Heavy-duty 6 gauge
1 Revolving Sign Light - 12V light w/magnetic base plugs directly into your cigarette lighter. The light revolves and be seen 1 mile away.
1 Flat Tire Fixer
1 Tow Rope - Tows up to 6500 lbs.
1 54 Piece First Aid Kit
1 High Visibility Yellow Blanket
1 Safety Vest - Neon mesh vest with reflective stripes                                     1 Distress Banner - Completely waterproof. This 36" x 15" "Emergency Help"
1 Utility Knife
1 14 in 1 Pocket Tool
1 Heavy Duty Work Gloves
10 yds. of Duct Tape
1 Ice Scraper with Glove
1 Flashlight w/ 2 D Alkaline Batteries
1 Body Warmer
1 Solar Blanket
1 Adult Poncho
1 10" Adjustable Wrench
1 6 n 1 Screwdriver
2 12 Hour Light Sticks
2 Pair of Hand Warmers
Estimated return to stock is 12/01/21. Orders placed now will be fully processed and will be fulfilled as soon as possible. Tracking details will be emailed upon shipment.
1   AAA Hard-Shell Foam Case
1   First Aid Guide
1   Sting Relief Pad
6   Antiseptic Towelette
15   3/8" X 1-1/2" Bandage
20   3/4" X 3" Bandage
1   2" X 2" Sterile Gauze Pad
1   1/2" Adhesive Tape Roll
3   AAA Batteries
1   Emergency Whistle
1   LED Safety Strobe
2   Hand Warmer
1   Survival Blanket
3   Emergency Candle
1   Quick-Spark Fire Starter
1   Accident Forms & Guidelines
1   AAA Membership Brochure
1   9 LED Aluminum Flashlight
3   Piece Fleece Set w/Cap, Gloves And Scarf
1   Folding Shovel w/Sheath
1   Ice Scraper
Being seen while stuck on the side of the road is really important for safety. This is even more true in harsh winter conditions where visibility can be limited. Having a kit of LED safety rod flares are the answer to helping you stay safe.n Each flare has 15 LED lights with 9 different flashing modes, and up to 60 hours max of run time. They can be laid out near your car or have magnets so you can attach them to your vehicle. They are visible up to 1 mile at night. Hands-down the best way to alert cars of your presence on the road. Add these to one of the car emergency kits above and you will be prepared for the winter roads.
What To Do If You Get Stranded

Do not leave your car unless you know exactly where you are, how far it is to possible help, and are certain you will improve your situation
Attract attention, light two flares and place one at each end of the car a safe distance away. Hang a brightly colored cloth from your antenna
Call for help - call authorities and family members to let them know where you are if you are need of help
Make sure the car's exhaust pipe is not blocked, run the engine and heater for about 10 minutes every hour or so depending upon the amount of gas in the tank
Keep warm - To protect yourself from frostbite and hypothermia use the woolen items and blankets to
Keep at least one window open slightly, heavy snow and ice can seal a car shut

Eat a hard candy to keep your mouth moist
Vehicle Inspection To Have Done Prior To
Any Long Road Trip During Winter

Check or have a mechanic check the following items on your car:
Antifreeze levels - ensure they are sufficient to avoid freezing.
Battery and ignition system - should be in top condition and battery terminals should be clean.
Brakes - check for wear and fluid levels.
Exhaust system - check for leaks and crimped pipes and repair or replace as necessary. Carbon monoxide is deadly and usually gives no warning.
Fuel and air filters - replace and keep water out of the system by using additives and maintaining a full tank of gas. A full tank will keep the fuel line from freezing.
Heater and defroster - ensure they work properly.
Lights and flashing hazard lights - check for serviceability.
Oil - check for level and weight. Heavier oils congeal more at low temperatures and do not lubricate as well.
Thermostat - ensure it works properly.
Windshield wiper equipment - repair any problems and maintain proper washer fluid level.
Install good winter tires - Make sure the tires have adequate tread. All-weather radials are usually adequate for most winter conditions. However, some jurisdictions require that to drive on their roads, vehicles must be equipped with chains or snow tires with studs.
For even more information about how to drive in the snow and in winter conditions refer to NHTSA.gov.
MORE WAYS TO GET PREPARED
Emergency Preparedness Checklist
Best Roadside Emergency Kits For 2021
Top 5 Reasons You Need An Emergency Kit For Home in 2021
The Best Car Emergency Kits For Winter 2021
How To Quickly & Safely Use A Power Bank Jump Starter To Jump A Car
Easy Step By Step On How To Safely Jump Start A Car Battery