Must Know Life-Saving Safety Tips On Tornadoes
Tornadoes are extremely  dangerous natural disasters that have the power to wreak havoc and destroy property and are life threatening. In fact, according to the National Oceanic and Atmospheric Association data, 76 people were killed by tornadoes in 2020.

If a tornado is imminent in your area, following these safety tips on tornadoes can help protect you and your family.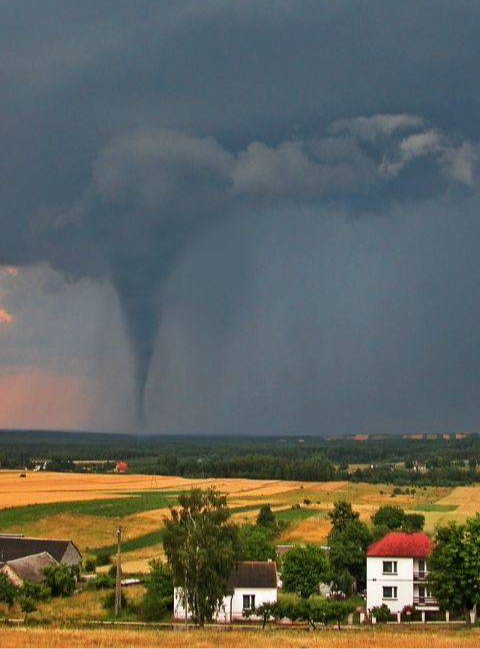 Top 7 Safety Tips On Tornadoes:
What To Do If One Is Happening In Your Area

1. Have a safety plan in place and follow your plan- Tornadoes are violent storms that can strike at a moments notice. Don't get caught off guard, have a plan in place for you and your entire family. Make sure everyone knows the safest place in your home to shelter, have a survival kit and first aid kit readily available, and be in contact with everyone in your family who is part of your safety plan. If a tornado is happening in your area make sure everyone follows the safety plan.

2. Take shelter in a safe place - The most important thing during a tornado is to take cover and shelter in a safe place, and having your safety plan in place beforehand will help you determine where that is in your home.

Best locations within a home: Basement or storm cellar

Next best options: interior room of your home that does not have windows, ideally on the first floor

Have a mattress or blankets to cover yourself and others with for extra protection from debris

DO NOT: shelter near windows, doors, or next to main exterior walls of your home

IF you live in a mobile home: get out immediately and seek shelter in a safe location
3. Listen to the news

 - follow your local news, check weather apps and alerts on your phone, and if the power is out, be prepared with a battery operated or crank operated am/fm radio and listen to it. This type of radio should be part of your tornado emergency kit and should be kept in your safe place.

4. Have a tornado emergency kit stored in your safe place - Storing your tornado or survival kit where you plan to shelter will help you during a tornado warning. Having easy access to these essential supplies could make all of the difference before and after a tornado.

5. Protect your pets - Be sure to include your pets in your tornado safety plan. If a tornado warning is issued for your area or a tornado is actively on the ground in your area, you want to protect your pets as well. Bring them with you to the safe area of your home.

6. If you are in your car - Do drive immediately and safely to a shelter. 

Do not seek shelter under a bridge or overpass

. Be aware of debris flying around, and if you are stuck in your vehicle, cover your head, neck, and face. If you have a blanket in the car put it over yourself to help protect these important areas. 

7. If you are outside - Quickly and immediately seek safe shelter. If you are unable to reach shelter, find a lying area and lay face down and cover your head. 
Top-Selling Safety Kits To Help You Be Prepared

Survival supplies for after a tornado
Ideal for 1-3 people

Compact and easy to store in your safety spot

Equipped with 90 high-quality supplies

First aid kit to address minor injuries like cuts and scrapes

Top quality survival gear: hatchet, paracord, shovel, and machete

AM/FM Radio that can keep you up to date if phone service is down
Well-equipped first aid kit for minor injuries from a tornado
Great for small groups and families

Ideal size to store in your safety place or car

Equipped with 85 top-quality first aid supplies

Good for minor injuries like cuts and scrapes

Medications for pain and headaches

Basic survival gear like safety whistle and survival blanket
Great backpack filled with useful survival gear

Designed for 4 people

Perfect size for grab and go if you need to evacuate

Equipped with over 100 top-quality survival supplies

First aid kit, dust masks, solar blankets, emergency whistle

Survival food, water pouches, and water purification tablets

AM/FM Radio with batteries
Filled with useful gear in case of a tornadoe

Designed and equipped for 1 person

Dry bag backpack helps protect all of the gear

Equipped with over 110 high-quality survival supplies

First aid kit, muti-tool, emergency whistle

Headlamp, compass, space blanket

Lifestraw, water purification tablets
Tornadoes are catastrophic events and can cause much violence in their vicinity. These natural disaster events can pull out the trees and hurl objects from one place to another. Additionally, tornadoes can destroy structures and well-built buildings too. Though tornadoes are common in the states with plain structure, these events can happen anywhere on the face of the earth. In the USA the most common areas hit by tornadoes include: Kansas, Oklahoma, Texas, Alabama, Louisiana, Arkansa, and Florida among other States. Here is a guide that will keep you safe and will help you prepare for before and after the tornado has ended. So, let us dive into the details so that you can keep your loved ones safe.
The Basic Difference Between a Tornado Watch and a Warning
The basic difference between a tornado watch and a tornado warning is that:
Tornado watch refers to the event in the future, meaning that a tornado is possible in that place. That is why you should always have a survival kit, a first aid kit, and a survival food kit with you.

On the other hand, a tornado warning refers to an ongoing event, meaning that the tornado is currently occurring or is bound to happen soon. In this scenario, you should be very conscious and get to the nearest safe place on an immediate basis.
What To Do BEFORE A Tornado
If you hear of a tornado warning in your area, do not wait for it touch down to act. You should immediately turn on the radio of local area, check your phone, or switch on the TV to hear about updates regarding the tornado. After getting the required details, consider moving to a safe place such as; the underground shelter, house's basement, or a strong room with no windows. The safest alternative to these is that you should move to a room on the lowest level and has no windows. Just keep in mind that no place is safe where the tornado is occurring. That is why if you have access to a place that is sheltered, consider going there, or if you have a vehicle, immediately evacuating the place might be better for you depending on your situation. Find an emergency shelter nearby and get to it immediately.
On your way, if you see any danger signs, meaning green clouds or dark clouds, turn your vehicle away from that area.

If you have time or there is a tornado warning in effect and want to limit the damage to the minimum, consider bringing your outdoor items inside. If picked by the wind, these items could end up be hazardous flying debris or end up somewhere far, and you might never see those belongings again. Make sure to have a survival kit, a first aid kit, and a survival food kit with you whether you are in your home or in your car.

Always make sure that your pets are safe and keep them calm.

If a tornado is more than likely to happen, ensure that your friends and neighbors are safe too. Try contacting them and discuss the situation. It might help them in a way that you cannot imagine.

If your neighbors are elderly or they require day-to-day assistance to tend to their needs, you should try accommodating them or assist them in keeping them safe. If possible, help them overcome the fear as well as with the safety measures.

Ensure that all of the windows of your homes are locked and all the doors are closed. You can even build in tornado-resistant features inside your home to help protect it and your family. Your garage doors must be tornado-resistant and should be able to withstand strong winds. Switch off the electricity sockets, gas valves and close the water supply.
What To Do DURING A Tornado
In case you are wandering outdoors and are stuck there while the tornado is happening:
If you are on foot, you should try finding a sheltered place nearby. This place could be a sturdy building, a strong house, a basement, or even a small shelter that can do wonders for you.

If you have a vehicle nearby and cannot find a shelter near you, consider getting into a vehicle and immediately driving towards the nearby safest place. Always make sure to buckle your seat belt.

Steer clear of any hurdles or roadblocks and avoid going onto bridges, highways, or overpasses. Your safest bet is those places that are on the ground.

If you find out that strong winds are blowing near you and debris is flying while driving your car, immediately pull over the car and put it in parking mode. Tighten your seat belt while keeping the engine running all the time. It is time to put your head down from the windows and into your knees. Cover your head with hands and a blanket. This is where having a safety blanket in your vehicle comes in handy.

Now is not the time to panic, try and stay calm. Let the catastrophic event happen. Don't let it overwhelm you. Ensure that you have a survival kit, a first aid kit, and a survival food kit to help you after the tornado is done.
 
What To Do AFTER A Tornado
When the whole event has ended, and you are feeling calm, do the following:
Let your loved ones know that you are safe. Contact them and ask them about how they are. Ask them how they survived the event or whether they need any kind of assistance. Use your survival kit or first aid kit to help them if necessary.

If you had evacuated before the tornado happened, you should only return to your home or office when the authorities say that it's safe to return to the place.

Always make sure that you listen to the latest details about the tornado on the local radio channel or an NOAA weather updates radio channel or on your phone is cell service is working.

Check your surroundings for any damage and make sure everyone is safe and uninjured.If someone near you needs first aid, consider using any one of these.
If you have a vehicle, take a car emergency kit to help you with any inconveniences on the road.
Take Care of Your Loved Ones
Always pay attention to how well you and your loved ones cope with the uncertainty of the situation. Handling your stress is the most important part before, during and after the tornado. Ensure that you have all kinds of safety and survival kits with you. Additionally, keep your animals under your direct control while the tornado is happening. Moreover, if you have any elderly neighbors or people who require special assistance in their routine life, ensure that they are getting the help they require. If your neighbor is a large family, consider accommodating them with you.
Tornadoes can happen anywhere and at any time. It is to be prepared beforehand. That is why it is recommended that you should always have a survival kit, a first aid kit, and a survival food kit with you. It would be best if you also talked about tornadoes in your communities and even inside your homes so that people can know about how to overcome the situation when tornadoes happen. Everyone should know where to go in the event of a tornado. Discussing plans in advance can help people overcome the fear of tornadoes and may help in releasing stress. Take the time to have a tornado emergency plan in case a catastrophic event happens. Every member of your community must carry a survival kit, a first aid kit, and a survival food kit with them because no one truly knows who might end up where. In short, keep your family and pets close, but keep your kits closer.